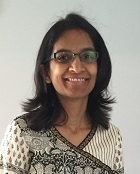 MiOTA Member Spotlight:
PREETHY SARAH SAMUEL, Ph.D., OTR/L
Dr. Preethy Sarah Samuel is an Associate Professor at Wayne State University.
She earned her Bachelor of Science in OT from Christian Medical College, Vellore, India in 1999 and her post-professional Master of OT from Loma Linda University in 2002. She received her PhD in Sociology from Wayne State University in 2006. She completed her post-doctoral training in disability research at Michigan's University Center for Excellence in Developmental Disabilities.
Outside work, she raises three boys, one of who is on the autism spectrum. Her life experiences as a parent and disability advocate fuel her to motivate others to discover their spirituality. She is passionate about podcasting to share her personal beliefs and convictions to encourage others to face their daily fears and anxieties. In addition, she reads, travels, and cooks spicy Indian food to rejuvenate herself with family and friends.
Preethy is a phenomenal occupational therapist who has contributed to occupational therapy scholarship and practice through her research and advocacy efforts. Her research contributes to developing evidence-based models of support to improve the quality of life of persons living with developmental disabilities, including autism spectrum disorders. One of the most significant challenges in measuring empowerment efforts' efficacy is the scarcity of well-developed rigorous evaluation tools. Therefore, her research efforts are focused on refining the measurement of family quality of life, a complex multi-dimensional social construct. Her clinical experiences as an Occupational Therapist and personal experiences with disabilities as a member of a racial/ ethnic minority group uniquely qualify her to understand the dynamics faced by non-traditional families living with a disability.
She is particularly interested in evaluating the burden of caregiving for individual developmental disabilities including Autism. Her recent work examined
the demands of caregiving for multiple people in the family
and the relevance of
family caregiving in this COVID-19 pandemic
.
Preethy also, believes that clinical OTs and PTs have lot to contribute to research. She is committed to empowering local OTs and PTs in hospitals to collect data and publish their work. She recently guided a
team from Henry Ford to publish their work
.
Preethy has been a member of MiOTA since 2006. She says, "MiOTA membership is essential because I value networking with OTs in Michigan. Networking can foster a sense of belonging and peer connections toward advocacy. For me, advocacy is critical to mitigating the quality-of-life challenges faced by people with developmental disabilities across the life span through teaching, research, and service".
If you would like to be highlighted or would like to nominate a MiOTA member, please email us at
website@miota.org
or
renukaroche@gmail.com
---
MiOTA's Statement on Inclusion, Diversity, and Occupational Justice
Amidst the suffering that the state of Michigan has experienced due to the COVID-19 pandemic, we now join the nation in grieving the deaths of Amaud Arbery, Breonna Taylor, and George Floyd. Most recently, the murder of George Floyd by four police officers in Minneapolis has revealed the virus of racism that has been present through our society largely unseen and unaddressed for decades. The murders of Ms. Taylor, Mr. Arbery, and Mr. Floyd have unleashed a massive protest movement across the country. These protests are the expression of years of pent-up frustration with racism and inequality.
As an association and members of a profession that espouses the ideals of inclusion, diversity, and occupational justice we cannot remain silent regarding the events of the past week. Our actions and inactions send a strong message about what we think and what we believe. The structural violence and systemic racism that has existed for years within our nation has once again been brought to light with the unnecessary killings of Mr. Arbery, Ms. Taylor, and Mr. Floyd. In addition, over the past two and half months, in the State of Michigan and across the nation, we have been witness to the disparities and equities as African Americans die in greater numbers due to COVID-19.
We must openly denounce the attitudes and beliefs that result in yet another person of color being killed at the hands of those who are charged with serving and protecting. We must also work to address the medical and economic crisis that exists in marginalized communities of color. Our professional commitment to inclusion, diversity, and occupational justice requires that we not only have conversations about occupational justice but that we act to address the social conditions that restrict what people can do and what they can be. As occupational therapy professionals, we must be agents of healing for individual bodies, for our communities, for our state, and for our society.