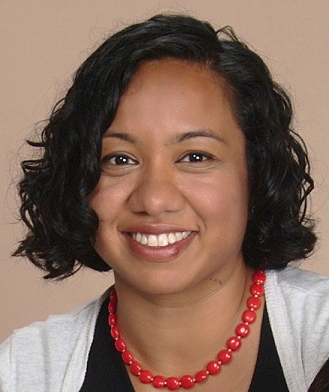 MiOTA Member Spotlight:
CHRISTINE NAZARETH-HAUPT, MOT, OTRL, SCCE
Christine is the Site Coordinator of Clinical Education Rehabilitation Services with Beaumont Health System, Troy Hospital. Her role as educator includes onboarding OT students and OTs that are new to their facility. She enjoys mentoring and guiding occupational therapists as they begin a new journey in their career path. She asserts, "The skills I have learned in my seven years as an OT easily transcend from patient care to training new employees."
She graduated from Baker College Center for Graduate Studies in Flint, MI in 2012. She also completed the AOTA Fieldwork Educator certificate program. Outside work, Christine loves spending time with her family: her husband, Bob, and her 3 children (Bobby, 2; Cora, 4; and Cayden, 13). Christine says, "My kids are at an age where they are constantly learning with every experience they have. I also teach them a lot through stories of patients I work with. When I have a tad bit of "me time" I enjoy watching Friends, doing yoga, and crafting." As a family, they enjoy playing games, playing outside, and traveling.
Christine states, "I realized I wanted to be an occupational therapist when I was working as an occupational therapy tech at Beaumont Hospital in Royal Oak. I thought I wanted to be a physical therapist throughout undergraduate school, but then I discovered the occupational therapy profession and knew right away it was meant for me. Occupational therapy concepts are the way my mind work and I am enjoying continually learning the many different facets of our profession."
Christine is constantly innovating and works on several projects at Troy Beaumont. Her primary interest is in the area of fall prevention. Christine states, "At Beaumont, we incorporate the aging-in-place philosophy." She is a member of the interdisciplinary fall prevention committee at Troy Beaumont. She is raising awareness among her colleagues and the community about fall prevention. They examine different factors that contribute fall prevention. She has developed resources and educational handouts to facilitate a safe discharge home for their patients. She is also incorporating sensory intervention techniques used to assist in fall prevention. "If patients are displaying sensory processing issues that are affecting their safety and increasing their fall risk, I am researching how occupational therapy interventions can assist with decreasing fall risk", states Christine.
Christine values the relationships and networks she was able to build by being a MiOTA member. She says, "Last year I attended my first MiOTA conference, it was great to be at and network with so many wonderful occupational therapists that had so many different levels of experience and backgrounds. I want to continue building these relationships and grow to be a strong advocate for the occupational therapy profession. I like that MiOTA focuses on not only the OT profession, but also advocates for the issues that arise for our profession in Michigan. They keep me informed, supported and connected to the OT community in Michigan."
If you would like to be highlighted or would like to nominate a MiOTA member, please email us at
website@miota.org