Welcome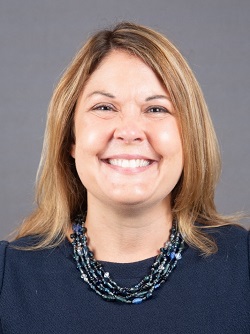 MiOTA Member Spotlight: ANDREA GOSSETT ZAKRAJSEK, OTD, MS, OTRL, FNAP

Dr. Andrea Gossett Zakrajsek is a Michigan native and has been an OT for over 20 years, working in inpatient rehabilitation settings, within community agencies serving people with disabilities, and, for the past 15 years, in academia. She is a proud alumna of Eastern Michigan University (EMU) the second oldest OT Program in the state, graduating with a Bachelor of Occupational Therapy degree in 2001. Earning post-professional Master's and OTD degrees from the University of Illinois at Chicago, she returned to Michigan in 2008 and has been a faculty member in EMU's OT Program ever since. Dr. Zakrajsek's teaching interests include evidence-based practice and OT assessment and intervention for adults and older adults. She also enjoys carrying out interprofessional research with colleagues and students that focus on using participatory action research to explore and support participation of older adults and people with disabilities. In her work at EMU, she has also served in various leadership positions, including Program Director of the Aging Studies Program and the OT Programs and is currently the Interim Associate Dean of the College of Health and Human Services.

Outside work, Andrea loves spending time with her family: 9-year-old twins, Hallie & Kellen, 11-year-old Isla and husband Pat and enjoys traveling with them. She likes to read, especially historical fiction novels. Andrea also volunteers in the community and with professional organizations and is highly invested in them.

Andrea says, I knew in high school that I wanted to be an OT but my reasons for loving this field have changed over the years. I began my career wanting to help people and have refocused my why to making the world more accessible and inclusive to people with disabilities and older adults so they can have choice and control over engaging in meaningful occupations. I love that our OT profession is so wide and broad that there are SO many ways we can do this!

Andrea has been instrumental in several successful research and academic projects. In recent years, she has been involved Age-Friendly University movement (for more information, please see: https://www.dcu.ie/agefriendly). Since EMU became an Age-Friendly University in 2018, she has worked with students, faculty, and staff across the campus and with collaborators both in the US and abroad on projects aimed at understanding ways of being inclusive of people across the lifespan on university campus and how Universities and educators can support students at any age in their student roles. Andrea exclaims, I really appreciate bringing my OT perspective to this work!

MiOTA has been a great place of connection for her—to network with other OT practitioners and students, to learn about areas in our profession through the regular webinars and conferences, and to advocate for OT practice in Michigan. She enjoys participating (and sometimes presenting) in MiOTA's Annual Conference. She says, it's always interesting learning about the exciting and innovative things OT practitioners are doing around our state. Last year, I was able to join MiOTA's advocacy day planning activities—I highly recommend this to anyone who is interested in supporting our profession!

If you would like to be highlighted or would like to nominate a MiOTA member, please email us at website@miota.org (Attn: Renuka Roche) or at renukaroche@gmail.com