MiOTA MEMBER SPOTLIGHT: SHARON HOLT, MHS, OTR/L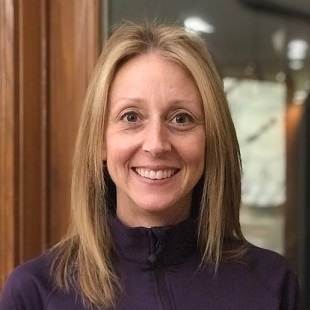 Sharon Holt is a Full-time Lecturer and Admissions Coordinator with the OT Program at Eastern Michigan University. She also works per diem for the Hope Network, an organization that specializes in neurorehabilitation and behavioral health. She graduated from Western Michigan University, in 1999, with a double major in Occupational Therapy and Dance. She then went on to do her post-professional degree in OT from the University of Indianapolis. Outside work, Sharon enjoys running races, kayaking, weightlifting, reading books and creating Pysanky (beautiful Ukrainian Easter Eggs). She loves spending time with her family and camping, hiking and vacationing together.
She decided that OT was her calling at age 16, when she shadowed an OT in an outpatient / work hardening clinic. The clients and OTs seemed to have so much fun together and what they were doing appealed to her artistic side. She loves bringing this artistry to those she works by creating opportunities to engage in meaningful and productive occupations. However, the area of OT specialization that Sharon most enjoys is addressing vision. Sharon says, "I strive to advance thinking around vision and its impact on occupation in every setting I have worked in. It has and continues to be an integral part of my practice". As the Admissions Coordinator at EMU's OT Program, she has developed a transparent and efficient system that helps students be successful in putting together a strong application packet, even if they are not accepted into the program. Sharon loves being a part of MiOTA. She says that MiOTA offers continuing education opportunities that are relevant, and keep her connected to colleagues and practice. She also believes that MiOTA keeps her updated about changes in the profession at the local, state and national level. "Where else can you get all of these opportunities for such an affordable cost?!", Sharon exclaims!
If you would like to be highlighted or would like to nominate a MiOTA member, please email us at:website@miota.org (Attn: Renuka Roche) or renukaroche@gmail.com