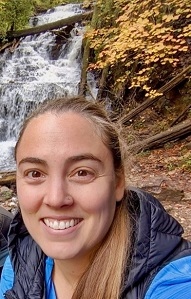 MiOTA Member Spotlight: KAITLIN GRAF, OTR
Kaitlin is a newly minted OTR. She graduated with her Master's in Occupational Therapy from Eastern Michigan University (EMU) in this eventful year. She was recognized an Outstanding Student for the 2019-2020 academic year by the College of Health and Human Services and the EMU OT Program.
She comes from a rehabilitation family with her mom being a PT and her aunt being an OT. However, her decision to become an OT was influenced by her experience with Cheley Colorado Camps, located just outside of Rocky Mountain National Park. She spent three summers as a camp counselor. Cheley hosts a specialty summer camp for burn survivors (https://www.cheley.com/about/specialty-camps) in collaboration with the Children's Hospital Colorado Burn Camps Programs (https://noordinarycamps.org/). This program is led by a team of pediatric OTs along with other professionals who manage the camp. Kaitlin connected with these children and was moved to see them learn to play, interact again and experience success at things that were meaningful to them. She was encouraged by the team to consider OT as a career.
Outside schoolwork, Kaitlin says, "I enjoy being outside with friends and love hiking". She also loves the thrill of shopping at second hand stores.
When asked about a unique experience in OT school, Kaitlin describes her non-traditional Level II placement with a refugee resettlement program in Salt Lake City, Utah. This program is a collaboration between the University of Utah and the not-for-profit International Rescue Committee (https://health.utah.edu/occupational-recreational-therapies/fieldwork/community-outreach/immigration-resettlement ). She says, "It was a very interesting experience. The goal was to assist refugees to adapt and successfully adjust to life in the US. There were refugees from different parts of the world who had experienced severe trauma and occupational injustice throughout their lives. This center accepted the most difficult cases because they had developed good support systems".
Kaitlin strongly believes in giving back to the profession. She is the website manager of EMU's Annual Spelbring Lectureship (https://www.spelbringlecture.com/) and was a student liaison on their committee. She says, "It is a cool experience to meet a wide variety of OTs, get an opportunity to meet the who's who in OT and to interact with OTs of different generations."
She was also a student ambassador for the 2018 MiOTA conference and virtually presented at MiOTA this year. She believes MiOTA provides students an opportunity to be a part of a larger OT organization, beyond their school, but not so large that they get lost. It gives them an opportunity to network and build an OT circle. It also gives students a platform to present their research and their expertise.
If you would like to be highlighted or would like to nominate a MiOTA member, please email us at: website@miota.org or Ray Roche (renukaroche@gmail.com).