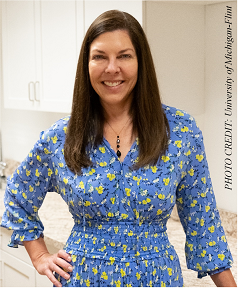 MiOTA Member Spotlight:
WENDY TREMAINE, Ph.D., OTR/L
Dr. Wendy Tremaine is a Clinical Assistant Professor of Occupational Therapy at the University of Michigan-Flint.
She earned her Bachelor of Science in OT from the Medical College of Georgia (now part of Augusta University) and a Master of Arts in O.T. from the University of Southern California. She specialized in pediatrics and completed a fellowship at the Ayres Clinic. She received her Ph.D. in Educational Policy and Administration from the University of Georgia.
Wendy researched many different healthcare careers before settling on being an OT. She says, "OT appealed to me because it used meaningful activities as the primary "intervention strategy."I love collaborating with clients, families, and other professionals to determine efficacious strategies to help people maximize their independence and engage in relevant occupations."
Outside work, Wendy serves on the Board of a volunteer dog rescue and of a turtle rescue.She is also a proud Mom of two rescue dogs. She is a certified yoga instructor and enjoys yoga and Pilates. Wendy exclaimed, "I just moved to Michigan last summer, so I am having fun learning about my new resident state!"
Prior to coming to Michigan, she was an entrepreneur and co-developed an OT Program when she joined a private practice with a SLP. They eventually had an interdisciplinary summer camp and preschool program.
Wendy is a member of MIOTA and MOTEC. Wendy says, "MIOTA rocks!" She believes that the volunteer leadership does an incredible job advocating for our profession and keeping informed of current issues and trends in the field. She believes that the practice context changes continually and it is important for members to participate in advancing OT. As a member, she asserts, "We have so much to offer and it's vital that we educate the community about what OT brings to the table in traditional healthcare, community practice, and emerging practice areas."
If you would like to be highlighted or would like to nominate a MIOTA member, please email us at
website@miota.org